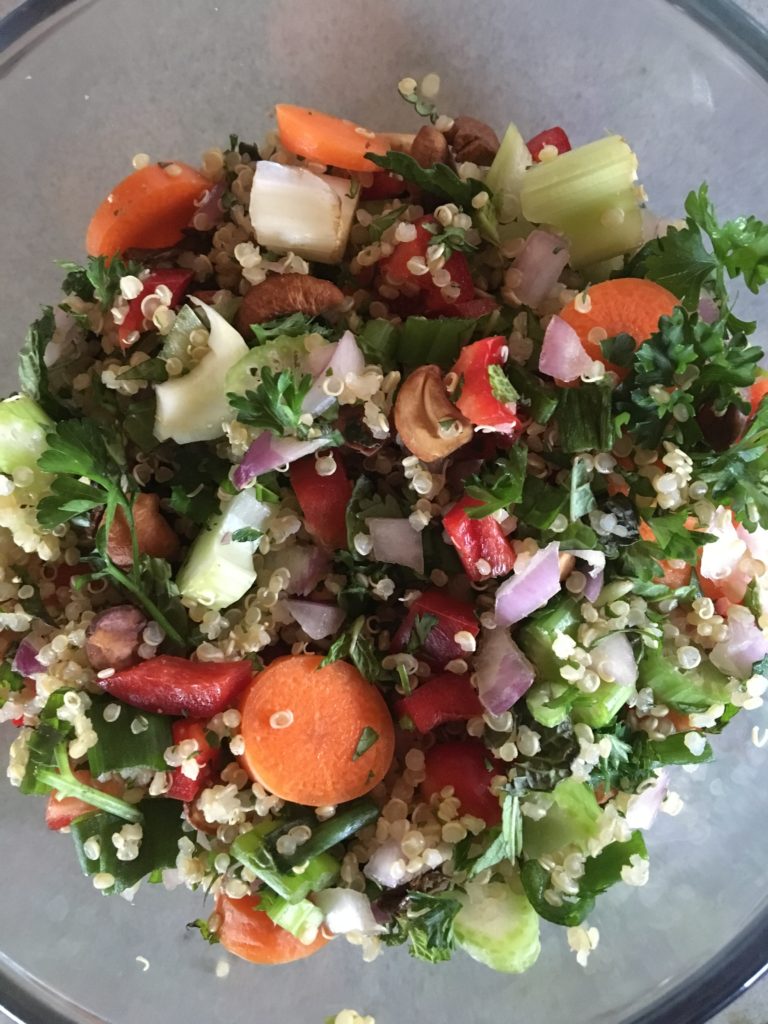 Quinoa is an ancient grain grown in the Andes. The Incas regarded the quinoa plant as sacred, and referred to it as chisoya mama or "mother of all grains."
Quinoa (pronounced "keenwah") is not actually a grain. It is a seed that is harvested from a species of a plant called goosefoot, making it neither a cereal nor a grain, and more closely related to spinach, beets and amaranth.
Quinoa is considered a perfect protein because it contains all nine essential amino acids. With its high protein content, it is often favored by vegetarians. Quinoa is also a good source of fiber, iron, copper, potassium, magnesium, thiamin and B6.
This quinoa salad is one of my favorite dishes. I often eat a large portion for lunch as a complete meal. Because the salad has plenty of protein and fat, I can coast for hours without feeling hungry.
Ingredients for Salad                         Makes 12 servings
1.5 cups quinoa
3 cups water
6 tablespoons chopped mint
6 tablespoons chopped cilantro
6 tablespoons chopped parsley
1 tsp Himalayan salt
1 small clove of crushed garlic (optional)
3 sticks celery, finely sliced
2 medium-sized carrots, finely sliced
1 small cucumber, diced
1 red onion, finely diced
4 scallions, chopped
1 medium red bell pepper, diced
½ cup sliced olives
2 cups of cashew pieces, dry-roasted
(Carnivores have the option of adding chopped, pasture-raised chicken)
Ingredients for Dressing 
3 limes freshly squeezed
6 tablespoons of extra virgin olive oil
1 tablespoons white wine vinegar
½ avocado, mashed
Preparation
Cook the quinoa ahead of time and set aside to cool to room temperature.
Place the cashew pieces on a cookie sheet and roast on low heat until lightly browned.
In a small bowl add the lime juice, extra virgin olive oil, white wine vinegar and the avocado. Whisk until thoroughly blended. Place in a small glass jar and set aside for the dressing.
Place the quinoa in a large bowl. Add the rest of the ingredients and mix.
Add the dressing only to the portion that you are ready to serve in order to preserve the fresh, crunchy taste of the quinoa salad.
Store the unused portion in a glass container with a lid in the fridge. The salad is still delicious up to four days after preparation.
Enjoy!!
More About Quinoa 
Quinoa originated in the Andes of South America and was domesticated for human consumption around 4,000 years ago in the Lake Titicaca basin of Peru and Bolivia. It has been an important staple in the Andean cultures where the plant is indigenous. 
When I lived high in the Andes of Ecuador in the early 1970s, I became very familiar with quinoa. The Peace Corps had assigned me to teach nutrition and home gardening in a small agricultural town called Guayllabamba, north of Quito. The mestizos in the town showed no interest in learning about nutrition and home gardening. They shunned quinoa.
When I asked the town elder to help me understand this strange phenomenon, he said that the people were proud that they could buy store-bought food and that they regarded quinoa as "food for Indians." Although most of the people in Guayllabamba were Indians, they used the term "Indians" to refer to poor people who grew their own food and lived from the land.
I learned that during the Spanish conquest of South America, the colonists scorned quinoa. They were the first to disdainfully refer to quinoa as "food for Indians." Spanish explorer Francisco Pizarro, in his resolve to destroy Incan culture, had quinoa fields burned. The indigenous people were forced to grow wheat. Only small amounts quinoa crops survived high in the mountains. 
When the town elder helped me to understand the history behind the townspeople's behavior, I realized how futile it was for me to continue with my teaching assignment.
I returned to the Peace Corp office in Quito and explained my predicament to the staff. I asked if I could create my own assignment. They agreed.
I found a remote area high in the Andes at 12,000 ft. where I taught bilingual education, helping the quechua-speaking Indians learn Spanish.
Quinoa prefers the cool climate found at high altitudes and can thrive in poor soil without fertilizer or irrigation.
Only in the past few years has the plant become widely known to the rest of the world. Vast quantities are now exported to the health conscious first world, particularly the US.
In my blog post, "The River of No Return," I introduced you to Alex Wankel, a visionary and entrepreneur. Alex grew up in the US with Peruvian roots from his mother.  For the past few years, he has been working with micro-entrepreneurs in the Andes to connect them with markets. Farmers have developed thousands of local varieties of quinoa that have the ability to adapt to climate change. Alex's goal is to protect quinoa diversity by supporting the farmers who cultivate it. His startup is working to produce the first biodiversity-friendly quinoa milk made with multiple local quinoa varieties that have been carefully selected for their delicious milky flavor. http://www.pachakutifoods.com/
Quinoa was first cultivated in the US in 1983. The first crop grew in the high elevation of the San Luis Valley in southern Colorado.
Small-scale farmers in the Northwest are currently testing the crop, harvesting a few pounds of quinoa each fall among their rows of vegetables and fruits and selling the seeds at farmers markets. But growers so far have been unable to match the quality of quinoa that comes from the high mountains of South America.
With its majestic history and its impressive nutritional content, you might consider introducing this super-food into your diet—if you haven't already.