Around this time 50 years ago in Germany, the Frankfurt American High School's class of '66 graduated in the Frankfurter Zoologischer Garten (Frankfurt Zoo), a fitting place for this memorable occasion.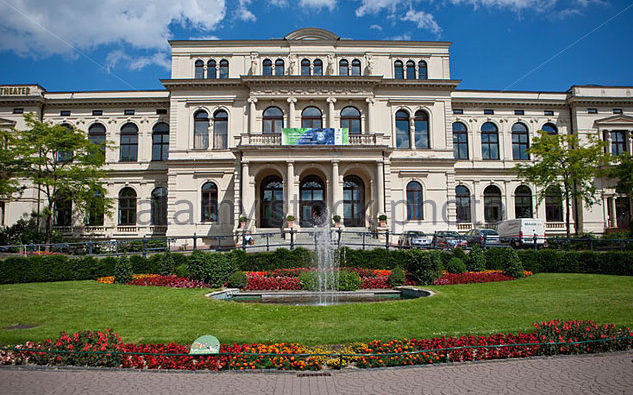 Photo of the entrance to the Frankfurt Zoo complex. Our graduation took place in a theater inside the complex.
A notice in our graduation packet spoke about rabies shots. I wonder if our principal had fears about one of us getting bitten by wild animals in the zoo?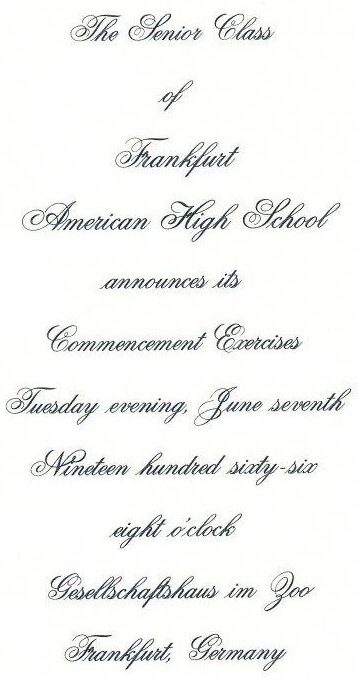 The notice of the 50th reunion of FAHS arrived in my inbox a few months ago. I had never been to any of my high school reunions over the years—or any reunion for that matter, except for reunions with family and friends. Initially I had no intention of going to the reunion, but then, one by one, I received emails from a handful of long lost friends who asked me to join them in San Antonio for the reunion. I changed my mind.
Why San Antonio? Since our high school in Germany no longer exists, the reunions take place at various locations in the States. The decision lies in the hands of the planning committee.
At this moment, I'm in the air, heading to Texas, with my head full of memories from half a century ago.
Frankfurt American High School (FAHS) was one of six Department of Defense high schools in Germany that served the children of the American military, the government, and civilian personnel after World War II. The school, opened in 1946, relocated several times within the city, and ended up at a place called the Abrams Complex, seen below.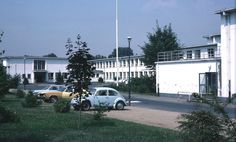 With the closing of American military bases in the Frankfurt region following the Cold War and German reunification, the school closed in 1995. The American government returned the Abrams Complex to the German Federal government and Frankfurt American High School became Die Phillip Holzman Schule.
Update: I'm stuck at the airport in Oklahoma City. Our plane to Dallas had to be re-routed because of a shooting at the Dallas airport (Welcome to Texas). We're stuck in Oklahoma until there is security clearance at the Dallas airport. Of course, I've already missed my connecting flight to San Antonio. Not sure when I'll get there, but not too worried about it.
I finally arrived in San Antonio, checked into our hotel, located right on the River Walk, then walked along the river until I found the German Bier Garten where the dinner get-together was wrapping up. In my haste to join the group, I had not picked up my name tag at the hotel. Even without the name tag pinned to my shirt, several people called out my name, "Rickie Merriam," as I entered the outdoor restaurant. Being addressed by my childhood name made me feel instantly like I was among family. Several people claimed I looked the same as I did in high school. Haha.
Fortunately, everyone else had name tags because it took me quite a while to recognize my old friends. One of my former classmates, Mike O'Connor, jumped out of his seat, whipped out his iPhone and showed me pictures he had scanned into his computer of the senior class play we were in, "Bye Bye Birdie." He even played a monologue of me—the mother—speaking in a heavy Brooklyn accent. Mike's parents had recorded the entire play and then Mike had managed to put the recording on his computer and iPhone and saved it for posterity.
In the role of Albert's mother, Mae Peterson, I took on the personality of a high-strung, long-suffering martyr, desperately manipulative to get her son's attention and resentful of the time he spent with his girlfriend, Rosie, and not with her. Fellow actor in "Bye Bye Birdie," Mike O'Connor, put his iPhone up to my ear at the restaurant, and this is what I heard—a familiar voice from half a century ago:
Here's a snippet of a professional rendition of "Bye Bye Birdie" with the song I sang,"Kids—What's Wrong with Kids Today?"in our unprofessional version of the musical.
One of the pictures of the musical that Mike showed me on his iPhone.
Our little sub-group spent the rest of the evening reminiscing about our times together.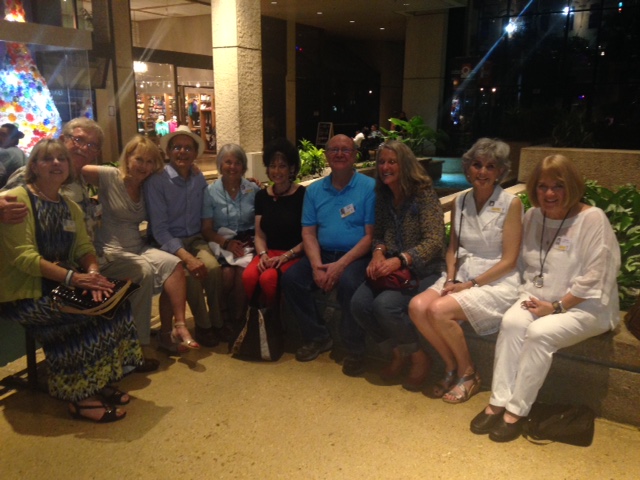 Some of my old buddies gathered together. On my right is David Vining. He played my son in Bye Bye Birdie, our senior class musical. The couple all the way to the left fell in love at their 40th high school reunion and got married.
The reunion planning committee reserved a room in our hotel for meeting up with classmates and a place to leave personal memorabilia for all of us to savor. I came unprepared, but enjoyed looking at other people's scrapbooks.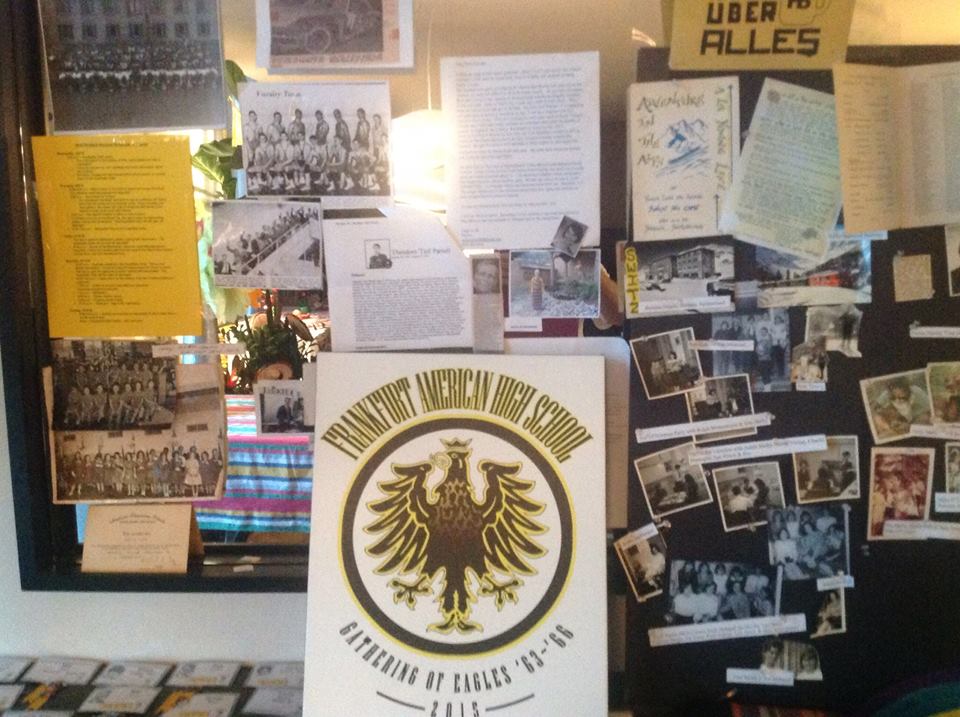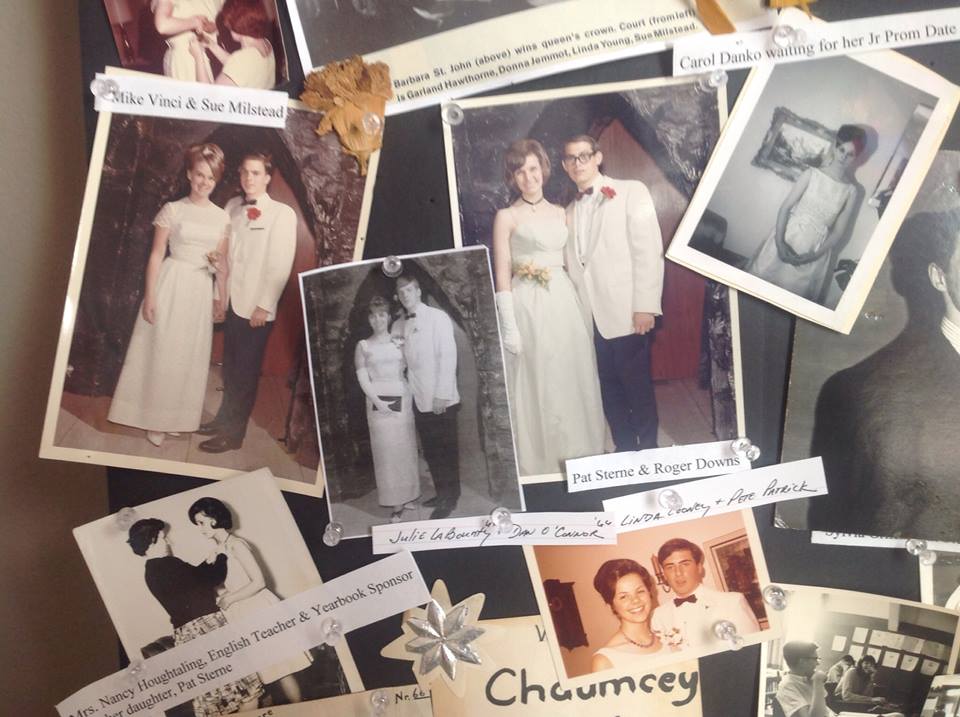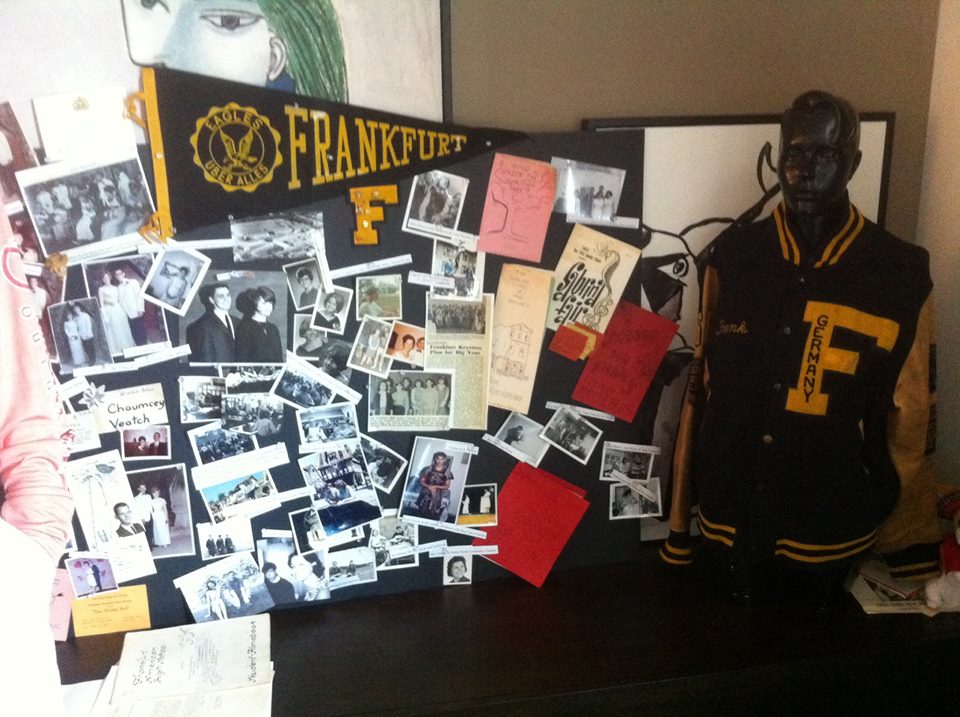 We ended our evening together with a light show projected onto a cathedral in one of the plazas.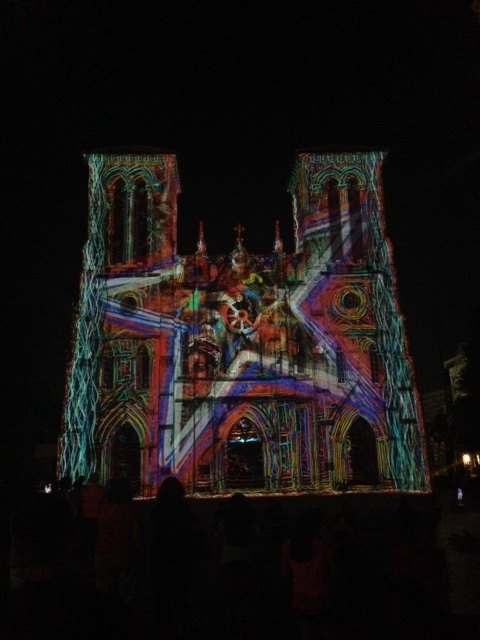 Next Morning: Fire Alarm in the Hotel at 7 am. A loudspeaker announced that we had to evacuate our rooms due to a fire alert. About twenty minutes later, the loudspeaker announced it was a false alarm.
So much reminiscing with a flood of memories that came pouring over me as I spoke with my former best buddies. Below are photographs of a couple of friends who went to the prom together in 1966 and then met up again at our reunion, fifty years later.
Out of a graduating class of around 350, 300 of us are still alive. Almost one-third of the surviving class attended the 50th reunion. I could not fit them all into one picture.
Our classmates include doctors, engineers, teachers, therapists, lawyers, judges, government officials, military officers, CIA agents, nurses, professors of nursing, artists, actors, professors of drama, and musicians. About half of the people I talked with at the reunion are still working full or part-time because they love their jobs and find them meaningful.
Update: I'm stuck at the San Antonio airport until late tonight because of a big storm in Dallas. Yet another Dalles delay, but at least this time is not due to a shooting. So, my trip has been rerouted. I'll arrive in Albuquerque in the middle of the night. I'll be in Santa Fe in the wee hours Monday morning. Fortunately, I don't have patients until the afternoon. I'm just going to relax into this prolonged delay and savor the walk down memory lane this weekend at the 50th reunion. I had no idea it would be so much fun. The planning committee did an outstanding job.
If you'd like to read the little memoir series of short stories I did about my life in high school in Germany, here are the links, in the order they were written. The first one is "The Nuremberg Trials," then "At the Pub," "Cutting the Braid," "Cutting Loose," "Trials of Transparency," "Summer with Jean Pierre," and "First Day at Antioch College."
That's all for now.