September 5th, 2017
The much anticipated departure date has arrived. Soon I will be rafting and kayaking the Salmon River in Idaho with a group of remarkable young environmental and socially-conscious entrepreneurs and visionaries.
A few days before departure, a friend sent me a map of the fires and smoke in the Northwest. Idaho, like many of its neighboring states, was on fire and choking in smoke. The map looked ominous.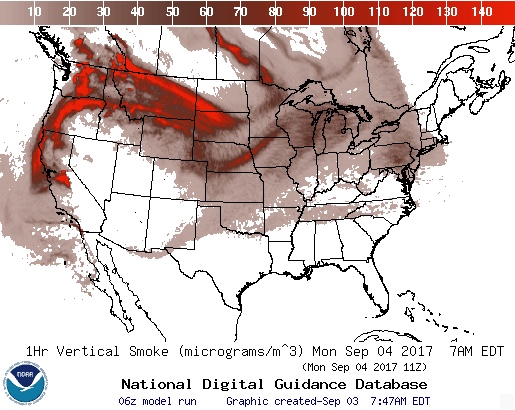 Taking into account my sensitivity to smoke, I decided I would fly to Sun Valley and then make the decision whether to proceed or return home.
September 7th, 2017
The smoke in Sun Valley caused only minor irritation to my eyes and respiratory tract. I decided to go forward with the trip and take my chances. The thought of unplugging from modern life and doing a digital detox in the wilderness sounded appealing. Without wireless connection, I know that I will have the possibility of making a deeper kind of connection with myself and with nature, as promised in the guiding company's brochure.
The trip is guided by Middle Fork River Expeditions, and especially tailored for a group of "fellows" who have been the beneficiaries of an organization called Wild Gift. Every year, Wild Gift selects a small group of entrepreneurs who want to make the world a better place and gives them a Fellowship. The fellows receive 16 months of support that includes two wilderness programs that teach leadership, business skills, and build lifelong connections.  On the home page of their website, it says that, "Wild Gift ignites positive change by providing unconventional support to outstanding young individuals with wild ideas."
There are seven "fellows" on the trip who have been beneficiaries of the Wild Gift program. Check out Wild Gift's inspiring website and read about the "fellows" and their unusual projects. Wild Gift
Here's a fascinating description of The Wild Gift program, taken verbatim off of their website:
THE WILD GIFT PROGRAM
Each Fellowship begins with a 20-day team expedition in the Idaho wilderness. The expedition challenges each Fellow physically and emotionally and connects them to the natural world on a very personal level. Fellows are able to unplug, incubate ideas, and envision the true scope of their work and lives while building lifelong bonds with peers and mentors tackling similar challenges. After a year of funding, monthly video calls, and mentoring, Fellows return to Idaho to reconnect and float the Salmon River. At the conclusion of the Fellowship, Fellows are welcomed into an active group of alumni and supporters.
Fellows receive:
A seed grant of $10,000
Technical assistance and dedicated mentors
A tight-knit cadre of alumni working all over the world, including sponsorship to attend annual Fellowship retreats
Exposure to a growing pool of potential angel investors interested in socially impactful businesses
Support beyond the official term of their Fellowship through ongoing networking opportunities, knowledge sharing, speaking invitations, and continued inclusion in Wild Gift's national and international outreach
Since its founding 15 years ago, Wild Gift has supported 52 social entrepreneurs working around the world in education, sustainable agriculture, affordable housing, energy efficiency and innovation, community development, public policy, wetland conservation, and stewardship. Wild Gift ventures currently enhance local economies as well as the natural environment in 8 countries on 4 continents (including Haiti, Canada, Nigeria, Kenya, Chile, India, Samoa, Nepal) and in 15 states including Idaho, Montana, Washington, Oregon and California. Many of our Fellows go on to receive national and international recognition for their innovative ideas and work and many return to Wild Gift as mentors, board members, and supporters.
After hearing about these amazing millennial entrepreneurs, are you wondering why I am part of this wilderness trip? Deborah Knapp, the soon-to-retire executive director extraordinaire of Wild Gift, is the partner of a close friend and colleague of mine, Bruce Gollub. They invited me to join them on the trip, even though I'm not a millennial and don't have a startup company that addresses environmental problems. I am extremely fortunate.
We are on the Main Stem of the Salmon that cuts through the Frank Church River of No Return Wilderness.  The early river runners called the Salmon River the "River of No Return" because the wooden craft run in the early 20th century were unusable at the end of their journey. They used the wood to build their cabins in the canyon.
Bryce Andrews is a writer and conservationist, author of Badluck Way-A Year on the Ragged Edge of the West. He lives in Montana. Here's a link to a 4 minute YouTube video that gives an example of Bryce's conservation efforts that allow wild animals and farmers and ranchers to live together: Corn Bears. 
The Main Stem of the Salmon River runs through a 2.3 million acre wild area called the Frank Church River of No Return Wilderness Area. We were told that it is the largest area in the country without any roads and has some of the most pristine and untouched terrain in the US.
Tsechu is an extraordinary person. She is Tibetan. Her family left Nepal where they lived as refugees and came to America when she was ten years old at the time of the Nepalese civil war. She got her college degree and post graduate training at Columbia in environmental sciences. She moved back to Nepal to use her knowledge, skills, and entrepreneurial spirit to help the Tibetan Refugees living high in the Himalayas, especially the women. Her project is called Mountain Resiliency. You can look on the Wild Gift website to learn more about this remarkable woman. https://www.mountainresiliency.org
Sam has had a love affair with the ocean since he was a boy. He is co-founder of Coral Vita, a startup that works to restore our world's dying reefs. Using methods developed in a lab, coral can be grown up to 50 times faster than the natural rate and can be bred to be more resilient to climate change.His goal is to start coral restoration projects in the Caribbean. http://www.coralvita.co
Heather works with local communities to secure access to safe, affordable drinking water in the Salinas Valley of California. She is part of the Environmental Justice Coalition for Water. In 2014, she received her PhD from Stanford University for a dissertation focused on grassroots community groups working to restore and protect rivers and streams in Appalachia.
Alex grew up in the US with Peruvian roots from his mother.  For the past few years, he has been working with micro-entrepreneurs in the Andes to connect them with markets. Farmers have developed thousands of local varieties of quinoa that have the ability to adapt to climate change. Alex's goal is to protect quinoa diversity by supporting the farmers who cultivate it. His startup is working to produce the first biodiversity-friendly quinoa milk made with multiple local quinoa varieties that have been carefully selected for their delicious milky flavor. http://www.pachakutifoods.com/
Arun developed a technique using optics (mirrors) to enhance the thermal energy produced by solar panels. His goal is to have his inventions installed in large industrial buildings throughout the country.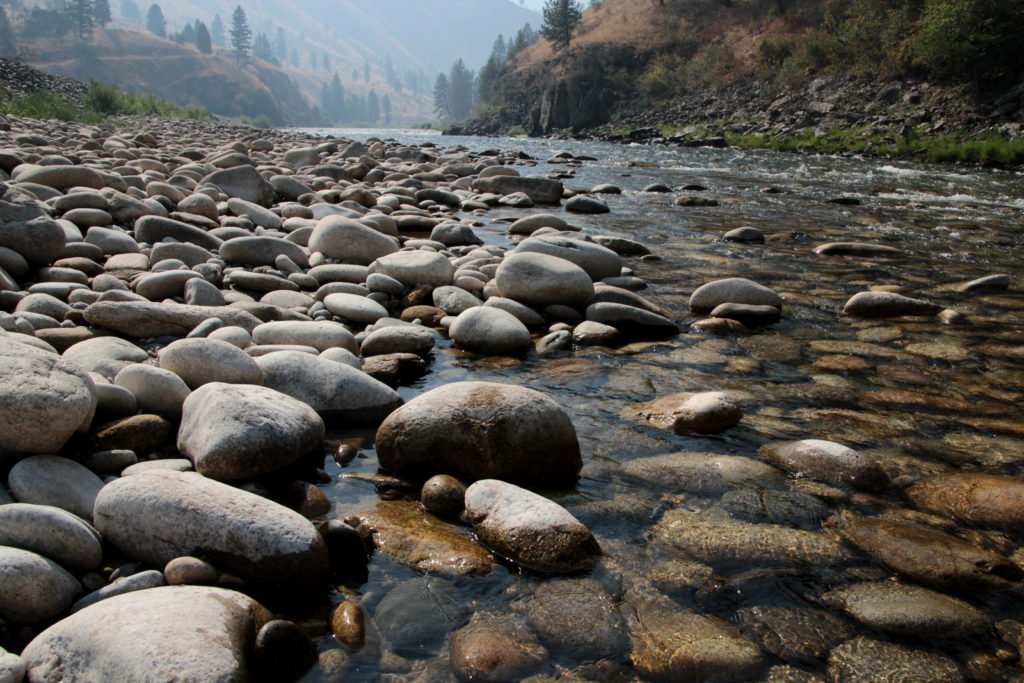 The Middle Fork River Expedition was chosen as one of the top 3 river outfitters in the world by National Geographic Adventure magazine in 2008 and 2009. They certainly deserve their reputation. They actually managed to accommodate all the various dietary needs and preferences—no small feat! Their prices are very reasonable. Check out their website http://www.idahorivers.com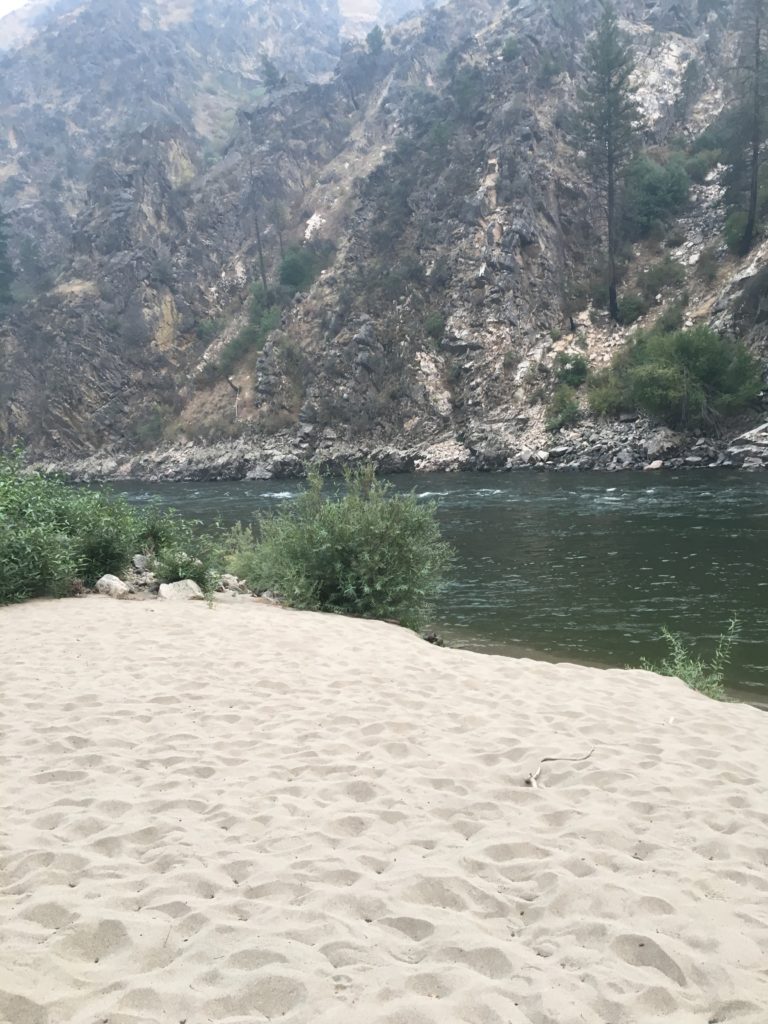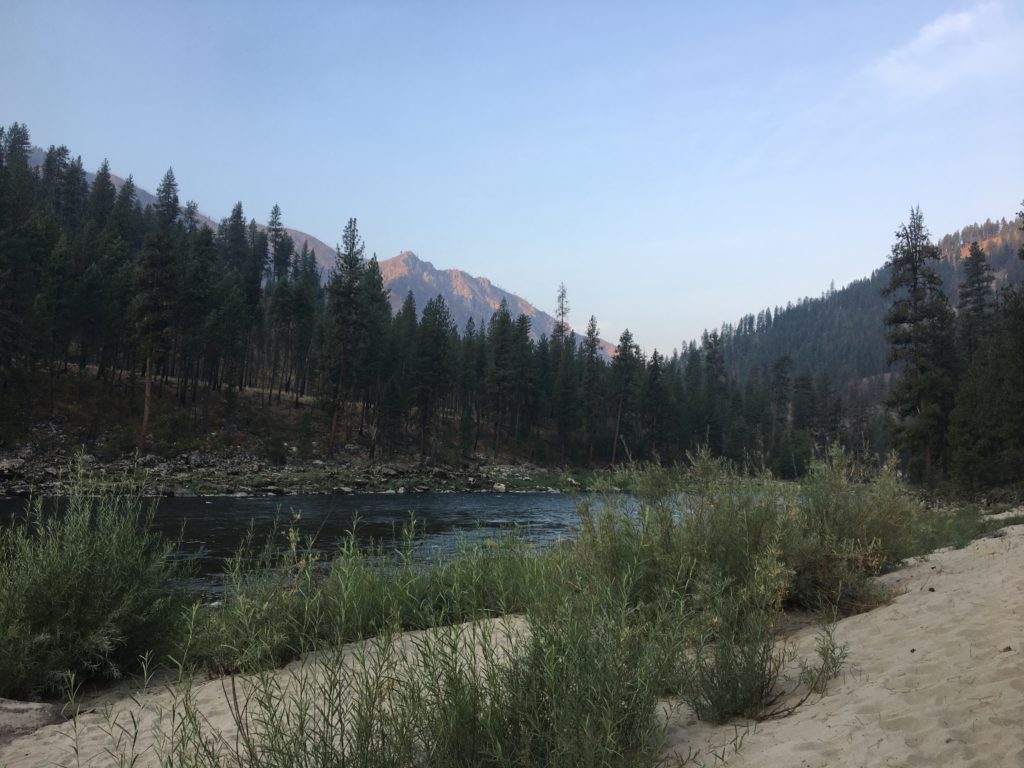 Given the limitations of my iPhone, Deborah Knapp kindly shared her photos with me for this blog post.
​Eventually the trip came to an end after six magical days on the Salmon River. I still feel the kayak rocking me as I lie in bed at night. And I still feel the inspiration and admiration well up inside me as I think about the time I spent with these incredible visionary and entrepreneurial change makers, each helping the world to be a better place in his or her own way. I am filled with love and gratitude.
With palms pressed together, I bow to all of you.